More and more bank institutions give their costumers the possibility to deposit cash at a self service module. Often in combination with cash withdraw but also as "stand alone" solution.

Self service cash deposit modules are equipped with a high sensitive sensor system, to detect the authenticity and the originality of the banknotes absolutely certain. In addition the modules are adjusted with highly complex systems for the counting and the transport of the notes. The electronic components as well as the mechanical separating- and transporting system are very often exposed to a high dust loading caused by dirty banknotes. Dusty sensors are no longer able to detect banknotes absolutely certain and reject them. Dust on the transporting- and separating systems causes a loss of traction on the rubber rollers and this leads to frequent banknote jams.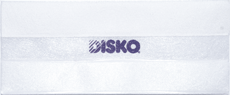 The use of DISKO cleaning cards for leaning bundle note acceptors is the easiest, safest and cheapest technique for ensuring the high frequency of your equipment. The flexible backing materials as well as the microfiber pads, which are produced in a high frequency procedure, guarantee a failure-free transport and a high cleaning quality. The sensors as well as the separating and transporting systems get cleaned in only one process. The unique DISKO microfiber fluid - without chemical solvents - increases the mechanical cleaning capacity of the microfiber considerably, without having a negative influence on other components like the rubber rollers or the rubber belts.
box with 25 pre-moistened cleaning cards
article nr. 1920
---
box with 25 pre-moistened cleaning cards
article nr. 1930